Most people love to go on trips and enjoy being at adventurous places. We all camp to relax from our daily busy routine and have fun, not to move the equipment from the car to the camping site. Shifting things from the car requires an hour's workout. However, you must carry multiple items if you plan for more than a night or two. CalCamp offers a fantastic product named "compact folding cart", which can help you enjoy your adventure. These folding carts are the best solution for carrying and moving your things easily.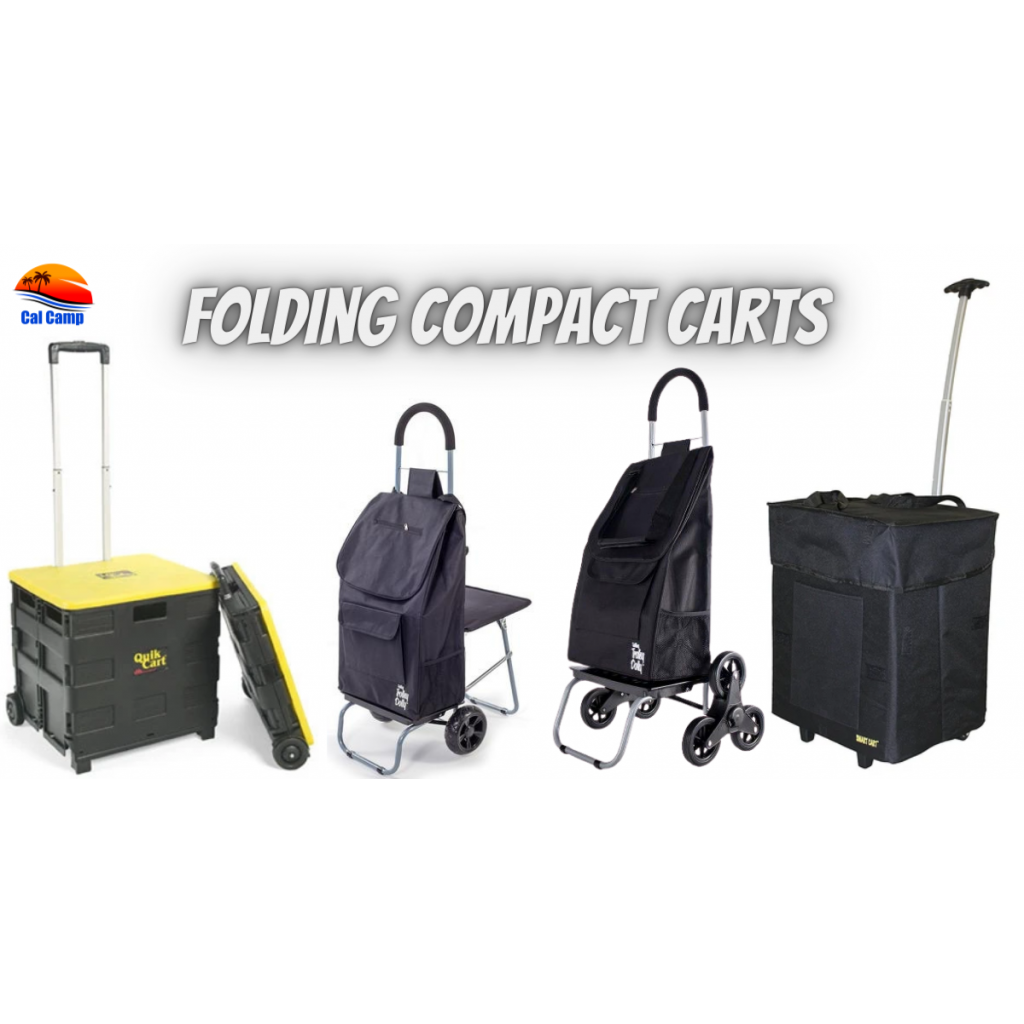 A compact folding cart is easy to carry and use while camping. You can fold the cart when not in use and store the cart in your car, taking up a small space. Foldable carts are made up of good-quality lightweight materials that are durable and affordable. Our compact folding cart has strong carry handles and smooth rolling wheels, offering easy movement.
We have spent some time understanding the need for a cart while camping to carry things comfortably. So, we have come up with the best and most affordable range of camping carts. If you are looking for a cart, especially for adventurous locations? You are at the right place! Our camping carts are built of strong material to use for adventurous trips.
Below, we will introduce you to our best folding cart products and help you to find the best cart for your next camping trip.
Find the Best Compact Folding Cart
In a hurry? Find our best and favorite camping compact folding cart for your next trip. You can choose the best out of them depending on your needs.
Original Quik Cart
Original quik cart has handles extending to 39 inches and easy-to-move smooth wheels. It collapses to 4 inches, which is easy to carry.
Bigger Smart Cart – Black
It is a cart with long tote handles, making it easy to move the items while camping. Non-slippery grip handles made it easy to carry. This fantastic cart has a front pocket giving more space to store things.
Trolly Dolly With Seat – Black
Are you looking for a cart with multiple uses? CalCamp is offering this Trolly Dolly With Seat, which has a foldable seat along with the cart. This trolly allows you to carry things and provides a single-person sitting arrangement. It is lightweight, durable and made with waterproof material.
What to Look for Choosing the Compact Folding Cart?
There are multiple things to consider before you choose the best compact folding cart for camping. Utilize your time and explore your options because picking the first visible trolly is pointless.
Size is the primary thing to consider before making the final purchase. You must buy a compact folding cart of great size to easily move many things. Buy something that can fit your needs. The cart you choose must become small after you fold it for storage in your vehicle.
If you are looking for durability when it comes to the wheel? You must consider wide wheels that can easily distribute the weight of the cart. Stability while moving things on camping is the priority.
You must have the budget in mind while buying anything like a compact folding cart. A cheap camping cart doesn't always mean its material is inferior. CalCamp advises you to spend as much as you can comfortably. We offer affordable camping carts of good quality.
Contact CalCamp!
Buying a compact folding cart is the best way to ease yourself moving things from the car to the camping site. Buying a camping cart is a worthy investment due to its features.
CalCamp offers more products that are far better than others, like foldable camping chairs, tables, hammocks, etc. Contact us today and order a compact folding cart for your next camping trip with your family.