Thinking of ways to reuse your folding camping carts? Here are the ten modern uses of compact folding carts in your everyday life.
Ever gone to a camp and invested in a folding trolly dolly? Does this sound like a one-time investment to you? Worry less. You can now utilize compact folding carts in multiple ways. We all know these carts are versatile, indispensable, and portable. Thus you can use them on multiple events, including hiking and camping. Here are some incredible ways to reuse your compact folding carts and maximize your investment.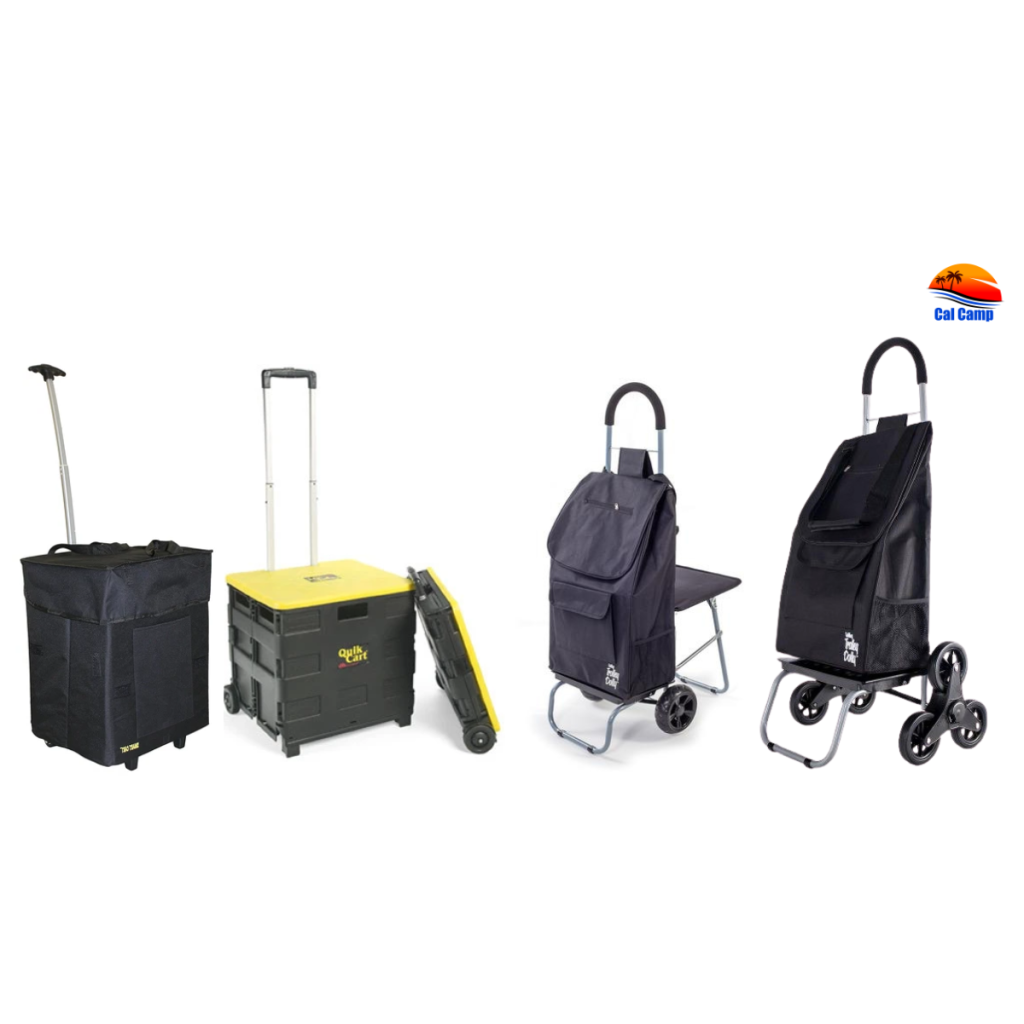 Reuse your folding camping carts in the most amazing style
We live in a global economy led by the 3R principle, i.e., reduce, reuse, and recycle. And the change we want to see starts with our home. With this blog, let's learn how to reuse our camping carts daily and contribute to our role as global citizens. Compact folding carts can be used in multiple ways, from simplifying extravagant household chores to aiding your outdoor adventures. Here's how you can turn your camping carters into valuable assets in our everyday life.
Take on grocery shopping
One of the most traditional reuse of camping carts is turning them into shopping carts. With ample storage and flexible wheels, the carts can comfortably carry heavy bags of groceries. Moreover, most of the carts are designed in lightweight folding cart style. Thus you don't have to worry about carrying them. With this reuse method, you even contribute to Mother Earth by reducing the need for single-use plastic bags and easing the burden on shoppers.
Your laundry day companion
Looking for a flexible companion to make your laundry effortless? Why don't you take your camping cart with you? Folding carts have a durable construction. Thus, they can withstand the weight of heavy laundry. And since the carts have smooth-rolling wheels, you can easily transport the laundry from one room to another.
Take with you to beaches
Obviously, it does not have a hidden purpose. A folding camping carts is made for this to assist you in an outdoor activity if you want to enjoy a relaxing outing without carrying loads of your belongings here and there. Take your camping cart with you, and hold the necessary things like snacks and beverages. Further, with all-terrain wheels, you can transport your essentials with minimal effort.
Your gardening assistant
Are you someone who loves gardening and looking for a way to organize your gardening tools and seeds? Again a folding trolly dolly comes here to rescue. You can carry your transporting tools, plants, pots, and soil whenever you work in your garden. Guess what's more fantastic? This minimizes the need for multiple trips back and forth.
Say hi to your stadium buddy
With a foldable camping cart by your side on a match day, you can easily carry food, drinks, and other supplies. You can simply enjoy the match by having a portable camping cart by your side and can even fold it up when not in use.
DIY your creative organizer
These camping carts are a boon for small living spaces, as they act as mobile or storage units. After the camp, you can reuse your camping carts to organize anything in either corner of your room. These may include craft supplies, books, or toys. Their portability makes such carts easy to use and reduces clutter.
For pet care
If you're a pet owner, you might know how hard it is to carry your pet and their accessories to appointments. It may include anything from a vet appointment to your pet's salon appointment. And every such pet owner can repurpose the folding cart to take their pet to the park or the vet. Further, the wheels attached to the cart make it convenient to carry pet supplies and ensure your pet's comfort during outings.
For moving and relocating
Further, you can use camping carts while moving and relocating. Relocation is a daunting task that may require shifting plenty of things from one place to another. The camping carts help move boxes, suitcases, and other items. Thus, simplifying the process and reducing the strain on your back.
Find the best compact folding cart online
If you have a compact folding cart, you may repurpose it in any way mentioned above. But, if you don't have one, you should invest in the best folding camping carts soon. Camping carts are your perfect companion on every outing, whether for about picnic or forest hiking. CalCamp offers one of the best camping carts to their customers. Besides, all their camping carts are portable, durable, and lightweight. You can multipurpose their camping carts daily without worrying about their capacity and quality. Here are their four premium camping carts that you may find on their websites.
A multipurpose folding basket can carry books, groceries, laundry, and other items around you that need space.
It is a multipurpose collapsible cart that you can carry inside your car. There's also a seat on the top of the cart where you can sit while waiting.
The best part of this lightweight folding cart is that it can be pulled through various terrains and surfaces.
This trolley dolly comprises a shopping bag further divided into multiple compartments. You can even remove this shopping bag to use the cart as a dolly.
A way forward
Undoubtedly, compact folding carts are ruling the globe like none else. Their versatility has allowed them to be repurposed in a variety of ways. From grocery shopping to a creative cart organizer, camping carts can influence our everyday lives in numerous ways. To have a joyful experience, always trust a reliable brand like CalCamp to invest in quality camping carts.
From household chores to outdoor adventures, camping carts have proven invaluable assets that simplify tasks. Embrace the innovation of compact folding carts to elevate your everyday routine with greater ease and efficiency. So, the next when you see your compact folding cart lying in the corner of your room, you know how to repurpose and reuse it to uplift your everyday life.