If you think you can use foldable camping table and chairs for camping purposes, you are wrong. This versatile and foldable camping table and chairs can be used for different purposes. In fact, more than just for camping purposes.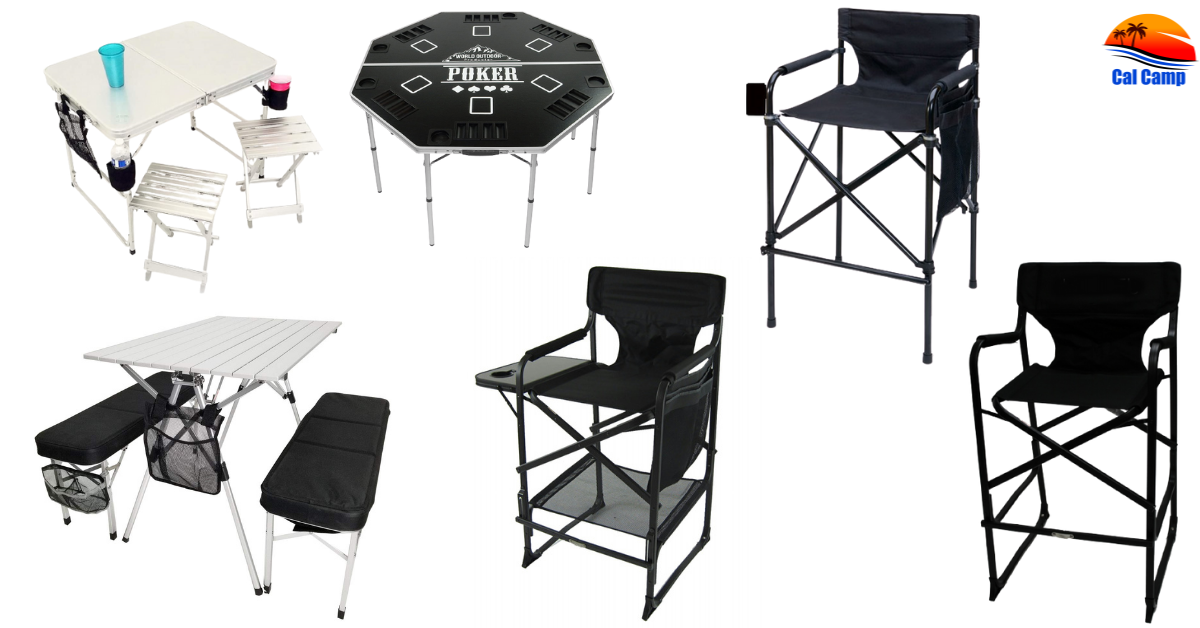 Different Uses of Foldable Camping Table and Chairs
As mentioned above, foldable camping table and chairs can be used in various settings. Let's have a look
Sporting Events for Children
You enjoy watching your child participate in sports, but things can quickly become uncomfortable as the sun begins to shine. Bring a portable chair with a canopy to the next big game to keep your cool. A Premium Director Fishing Chair with Rod Holder is lightweight and portable.
This chair with features such as a drink holder, carry bag, a side table, and more are also available. You'll appreciate the ease and be the envy of all the other sports parents in no time.
A lightweight camping table can assist keep things orderly when it's your turn to deliver food. Look for one that can be folded up and comes with a carrying case. You can toss it over your shoulder in this manner, freeing up your hands to carry drinks and nibbles. Clean-up can also be made easier by hanging a plastic bag from the table's edge.
Foldable Camping Table and Chairs for Outdoor Crafts
Your children can enjoy numerous outdoor crafts, regardless of their age. Moving your craft station outside will get kids out of the home and away from their screens, but it will also reduce the trash.
A DIY outdoor art station can be made out of an extended camping table. Because the height can be adjusted, it is suitable for children of all ages and can easily accept various folding chairs.
Food Preparation & Consumption
A solid aluminum table will give you a clean and pleasant location to perform your food prep, whether you're gathering on your backyard patio or heading away for a weekend in the woods. Look for a sturdy, long-lasting table capable of supporting at least a few hundred pounds. This will ensure that it can easily hold all your food and cooking equipment.
After you've finished preparing your food, you may either clear the table and prepare it for eating or put up a second table for everyone to sit at and enjoy their meal. Don't be scared to bring some interior opulence outside. Dress up your party with a tablecloth and some wonderful ornamental centerpieces to make it more exciting!
Games Nights
Set up a camping table (or two) on your back patio or yard to bring game night outside. This is a wonderful opportunity for everyone to unwind, enjoy one other's company, and have screen-free fun.
A modest portable table will suffice if there are only a few participants. This will allow you to play your favorite board or card games with two to six players. Do you want to take things a step further? Organize a larger gathering with a range of games. Your visitors will be able to go from one game to the next, keeping things entertaining late into the night.
Make sure you have some hanging lanterns or other light sources if you're planning to play after dark. You'll also need a lot of quad seats so that everyone may sit comfortably while playing their games.
Road Trips and RVs
For any RV owner, lightweight foldable camping table and chairs are a must-have. They won't take up much space inside and will make it simple to set up a pleasant location outside once you've found a parking spot because they're designed to be movable.
If you enjoy trekking, a backpack chair will be a great addition to your gear. It has lots of storage space for your outdoor gear, food, and periodicals. Your bag will transform into a comfortable chair once you arrive at your location, allowing you to relax and enjoy the fresh air. Comfort and convenience are provided by features such as a built-in key clip, a drink holder, and a contoured pillow.
Do you like to unwind with a good book or gaze at the sky in the evening? A good folding chair will give you a lot of support and comfort. These chairs can be adjusted to a variety of positions, giving them a versatile solution for a variety of outdoor uses.