Camping is a fun activity you can undertake with your friends or family. It helps you relax and unwind after a stressful week. You get to explore uncharted terrains, see the beauty of nature and create your adventure. However, the trip will be stressful rather than calm if you do not have the proper equipment and gear. You should always carry appropriate camping gear, including camping chairs, a table, a flashlight, and sleeping essentials. You require all this equipment, but in this blog, we will focus on the directors camping chairs. It is an essential part of your gear, and you should invest in a good-quality chair. It will ensure that your trip is fantastic.
Multi-Use Folding Directors Chair
Even though the chair is ideal for camping and other outdoor events, you can use it for different reasons. You can take camping chairs anywhere ad everywhere since they are multi-functional. You can take it on your next camping trip or sprawl it in your backyard for sunbathing. It is convenient to carry due to its foldable design and lightweight build. But it is sturdy enough to support the weight. It comes with many utility pockets so you can store your accessories within reach. For instance, the chairs have a cup holder or a mini table. Finally, these chairs are highly comfortable. They have padded armrests so that you don't feel any discomfort.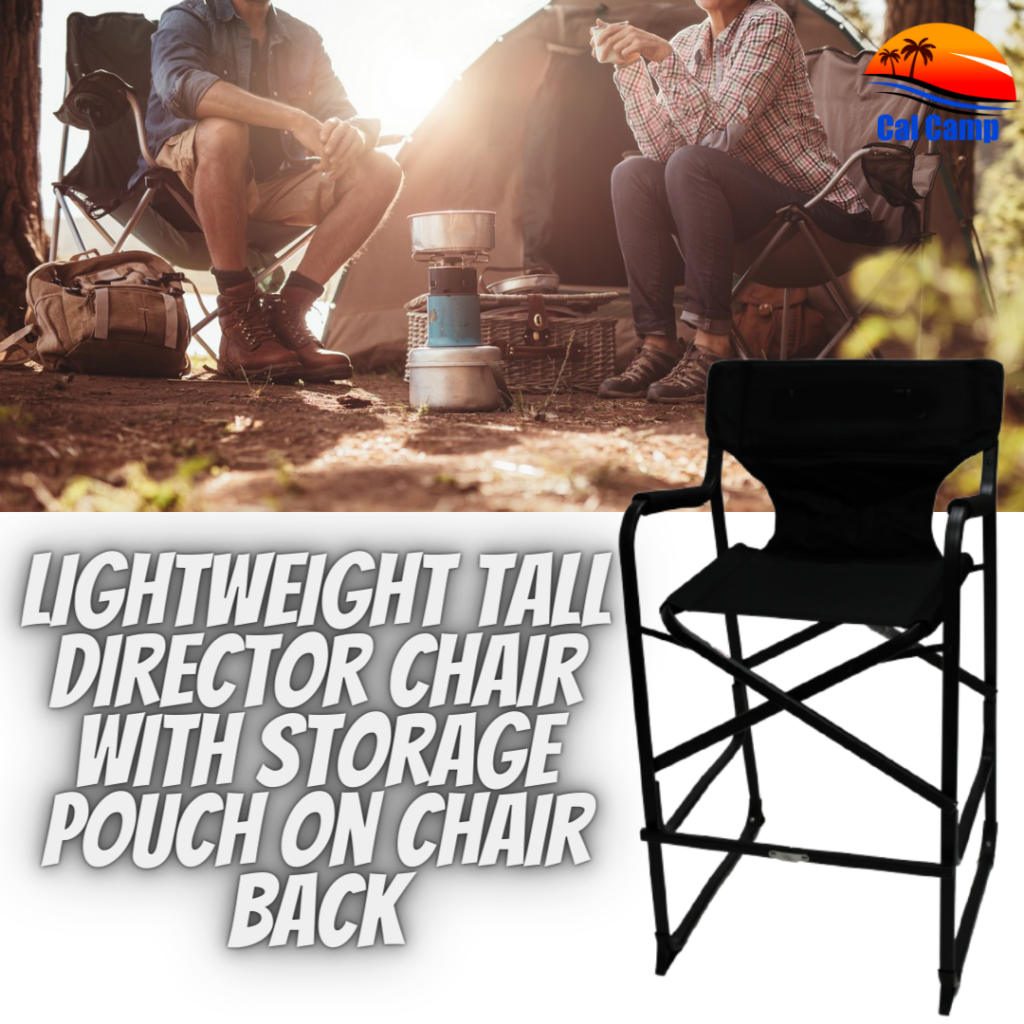 You can see that directors camping chairs have many benefits. But to take advantage of its multi-functional nature, you should invest in a superior-quality chair.
Why Should you Invest in a Good Quality Directors Camping Chair?
Sturdy Built
A camping chair should be sturdy since you will go to rugged terrains with rocky and uneven paths. Your chair should be able to handle it. What is the use if it breaks when you set it up? A good-quality chair like #65TTPROX – Lightweight Tall Director Chair with Storage Pouch on Chair Back will endure all harsh conditions and provide the comfort and support you require.
Comfort
Some chairs are so uncomfortable that they are not different from rock. Competent directors camping chairs should be comfortable so that you can relax and enjoy the view. Maybe even take a nap; who knows?
Warranty
Despite the best precautions, there can be a manufacturing defect. Even if the chair is top-notch, you can break it accidentally. Always buy a chair that has a warranty.
Foldable
Camping gear is always lightweight and compact. Chairs are difficult to carry around in expanded size. Buy a foldable and lightweight chair so you can move it around quickly.
Multi-Functional
You can use these chairs for camping and other purposes. Put it up in your backyard, or use it for your BBQ night. The chairs have cup holders and additional utility pockets too.
Invest in Top-quality CalCamp Directors Camping Chairs
CalCamp offers a range of premium camping chairs that will last you a very long. They are sturdy, lightweight, and multi-functional. The chairs come with a carbon black anodized finish; they are multipurpose and foldable. Buy the best camping chairs only at CalCamp!