Camping is a great activity that is both healthy and pleasurable. People who love camping invest in superior-quality camping gear for a better experience. Yet, these expensive investments can go unused for a long time in the off-season. But who says you can use camping gear for camping only? It is versatile, and you can use it for several other purposes. There is time for camping season, but that does not mean you have to put away your equipment. There are plenty of ways to use a foldable camping table and chairs at home.
Four ways to use Foldable Camping Tables and Chairs at Home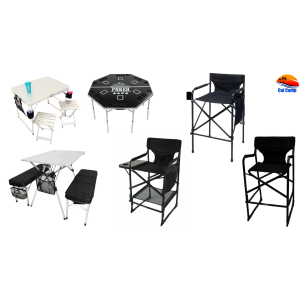 Backyard Party Table
An impromptu party is the best. Call your friends, put on some music, get some food, and it's a party. Sometimes your friends can bring their friends, and your soiree can become a festival. The more, the merrier. But the seating arrangement can become an issue sometimes. For example, where will you keep the extra boxes of pizza or the six-packs? This is when the foldable table and chairs will be helpful. You can put extra stuff on the table or create more seating space.
Makeshift Bar
Nothing holds a party together like a live bar. It is a great place to remember old stories and create new ones. Set up your foldable camping table and liven up the atmosphere with your bartending skills. Mix up the strangest concoctions ( vodka and coconut water, gin and coffee, you get the gist) or stick to your usual rum and coke routine; this bar will be a hit among the guests. Since the table has storage space, you can easily store all your barware and bottles.
Extra Seats
You never know when a party can turn into a bonfire. If you are not prepared for the extra guests for the night, camping chairs will help you create more space to adjust them. The chairs are compact and sturdy, so you do not have to worry about them taking up much space. You will have a perfect bonfire night without any uncomfortable people.
BBQ Brunch Table
Being a good brunch host is easier than it seems. A barbeque brunch is great for bringing together family and friends. If you are worried about the expenses it incurs, we have good news for you. If you have invested in good-quality camping equipment, you should not worry about your BBQ furniture. If you own a grill, you can easily host a fantastic BBQ brunch using your camping tables and chairs. Put your chairs around the grill or set up a table; surely it is up to you. We can guarantee that you will have a great time.
CalCamp Foldable Tables and Chairs
CalCamp offers a wide range of premium foldable tables and chairs for all your excursions. Moreover, you can select products from their vast catalog featuring a bar table, deluxe compact table, poker table, foldable raptor table with padded chairs, etc.